Panel Cleaning Services
We provide our clients with a quality of service we believe no other crew can match. Our team is the very best in the Valley, specializing in premium solar care.
Reasons to Clean Solar Panels
There are several reasons to clean your solar panels, but the most important is the payback you
receive from maintaining the highest efficiency possible by keeping PV modules free of dirt & debris.
FACT: YOU CAN LOSE UP TO 33% OF YOUR PRODUCTION FROM DIRTY SOLAR PANELS
Boost Efficiency
Keeping panels free of debris will allow your solar panels to absorb the maximum sunlight available.
Reduce Calcification
Tap water can cause calcification which can impact production and even damage panel integrity.
Keep Bills Low
Increased efficiency = lower bills. More of your monthly needs are covered by your production.
Catch Electrical Issues
Solar Maintenance Pros technicians are trained to identify electrical/wiring issues.
Maintain Aesthetics
Our techs use a eco-friendly cleaning solution to keep your panels gleaming.
Minimize Downtime
If we catch an issue with your system, we can give you a quote to get it fixed in a timely manner.
Premium Service at a Great Price
Solar Maintenance Pros invests the time and money to ensure we have the best tools at our disposal
to serve our client base of solar customers.
Only De-ionized Water Used
Because hard water can cause calcium build up on panels, our maintenance team only uses filtered water on every panel cleaning job.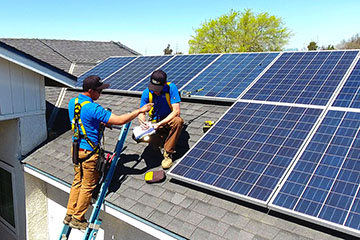 Trained Technicians on Every Job
Why would you call a window washer to clean your panels when our techs are experienced, solar pros trained to identify issues.
What Our Clients Say
Read about our 5 star service directly from our clients as they share
their experiences with the public.
"Their crew was very friendly, the workers were efficient and wore safety equipment which impressed me. I don't think they were here more than 1/2 hour setting up, cleaning panels, and clean up. Highly recommend."
Sue Sloper
5 Stars on Google
"Thank you Solar Maintenance Pros for having the best customer service, prices & all around service! We are very pleased to have done business with you & will be a forever customer. I recommend you to everyone I know!!"
Renee Mancini
5 Stars on Google
"Excellent experience from the appointment to the tech who preformed the service cleaning. This was our first time having our panels cleaned and plan to use their team for all my future service cleanings."
John Luttrull
5 Stars on Google
"Always pleasant to work with Solar Maintenance Pros. They regularly communicate with us before service visits. Panel cleanings to keep our system optimized, everything is as it should be on our roof!"
William Bowlin
5 Stars on Google