Know-TrueUp® Active Monitoring
Built for convenience and security, Know TrueUp offers users a way to gain insight into their complete energy data profile and minimize their True-Up bill.
Monitoring Experts Review Your Account
We have a team dedicated to providing our clients with active-monitoring support. They audit our client's solar data to make users aware of any issues that may arise with their system.
The Easiest Way to Stay on Track
Our energy dashboard gives users an easy way to quickly check their production and usage side by side to keep their bills low.
Software Details
Built for convenience and security
Active Support
Our team is actively checking for system errors
Convenient & Affordable
Our monthly packages are reasonably priced
Maximize Your Energy Credits Every Month
Minimize your annual True-Up bill with our software by getting real-time updates on both your solar production and energy consumption.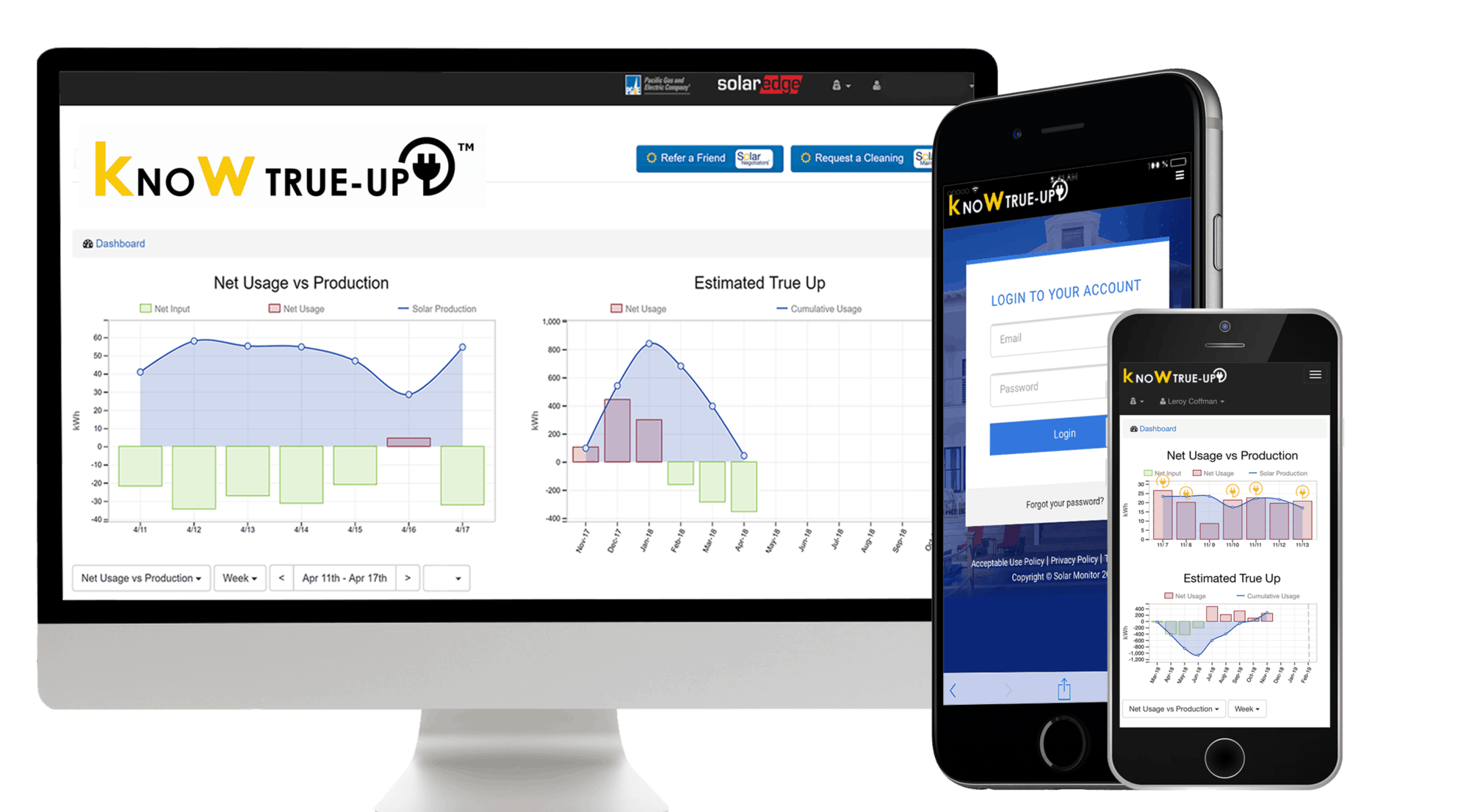 K E E P  B I L L S  L O W
Do you have solar but don't monitor your production because it's too difficult or time-consuming? Tracking your system's production and consumption data has never been easier, with Know TrueUp's easy-to-use dashboard. Filter by date, or watch your numbers change throughout the day to reduce your annual True Up cost.
Once you're signed up and registered in our database, you can use the application on your computer or conveniently from your mobile device.
S M A R T   T E C H N O L O G Y
Simple, Effective, Practical.
When power is being used and produced on a daily, weekly, monthly, and yearly basis, it can be hard to track exactly what your expected True Up might be. We combine your energy data in one dashboard, making it easy to stay on track.
"I want to offset my $350.00 energy bill 92%, my expected TrueUp bill should be about $340.00 at the end of my 12-month billing cycle."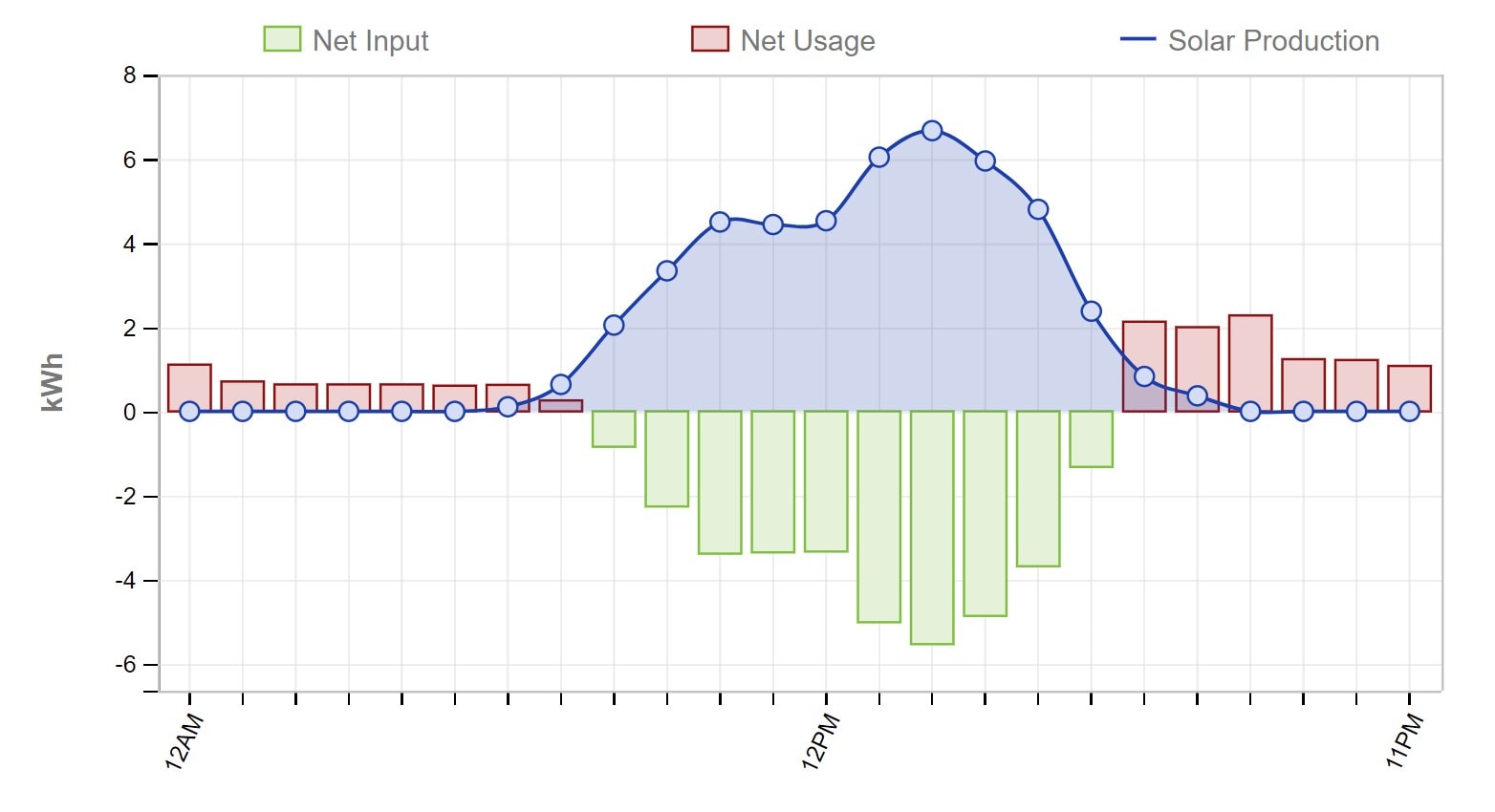 Know TrueUp®: Get Connected
Know TrueUp's monitoring service is intended to provide visibility to customers by combining production data provided by the inverter manufacturer, and smart meter data provided by the utility company. This allows for us to give users access to both, making complete energy management quick and easy. Sign up today and get added to our database to start receive alerts if your production stops or dips below a certain point.
L I N K   Y O U R   U T I L I T Y
Easily Sync Your Energy Data
There are two main pieces of account information Know TrueUp needs in order to function. (1) Your smart-meter data pulled directly from your utility company. Currently, we only have access for PG&E customers. (2) Your solar inverter data to show your daily production. Our system currently works with Enphase and Solar Edge inverters. We require both of these online account logins to pull the information and display it via our energy dashboard.
Register Today: How to Sign Up
Would you like to sign up for Know TrueUp today? Registering your account with us only takes a few simple steps. Fill out our inquiry form to get the process started.
Step 1: Fill out Inquiry Form
To sign up, simply fill out our contact form page by clicking the "Sign Up" button.
Step 2: Choose a Service Plan
Pick from one of our affordable package options to customize your level of service.
Step 3: Provide Account Info
We will  request your utility and inverter account info to sync your data.